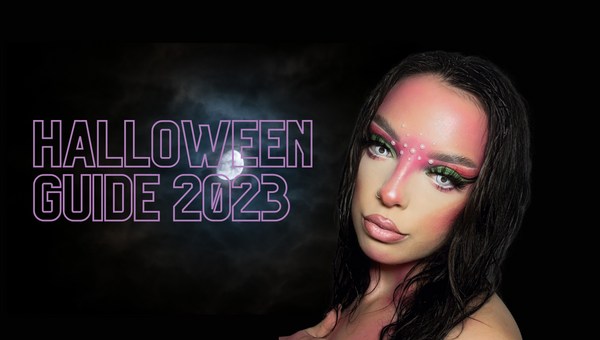 Halloween 2023: 5 Must-Try Costume Ideas Inspired by Pop Culture
It's Halloween season again and the anxiety of having to work out your annual attire is already setting in. Our team have put together a cheat sheet to help get you through the spooky period. Check out our top 5 looks for this Halloween below complete with costume and makeup suggestions.
Happy Halloweening 😈
1. Euphoria
"Euphoria" has taken the world by storm, not just for its compelling storyline but also for its avant-garde fashion. Embrace the style of Rue, Jules, or any other "Euphoria" character by rocking bold makeup, glitter, rhinestones and eclectic outfits. This Halloween, step into the world of this hit TV show and become a walking work of art.
COSTUME: Transform into a character straight out of the world of "Euphoria" this Halloween. Embrace the show's eclectic style by choosing an outfit that's bold and unique. Start with a trendy and edgy wardrobe featuring leather jackets, oversized hoodies, colourful faux fur coats, and plenty of sequins and sparkles. Mix and match patterns and textures to capture the essence of the show's fashion-forward characters. Don't forget to accessorise with chunky jewellery, statement boots, and a crossbody bag for an authentic "Euphoria" vibe.

MAKEUP: "Euphoria" is known for its groundbreaking makeup looks that push the boundaries of creativity and self-expression. Here's how to recreate a stunning "Euphoria" makeup look:

Glowing Complexion: Begin with a dewy and radiant complexion. Use a luminous foundation and highlighter to achieve that ethereal glow. Don't be afraid to add extra shimmer to your cheekbones, temples, and collarbones.

Bold Eyes: "Euphoria" is all about eye-catching eyeshadow and liner. Experiment with vibrant and neon shades to create a unique look that expresses your personality. Winged liner, graphic designs, and unconventional eyeliner placements are all fair game.

Glitter and Rhinestones: Glitter and rhinestones are a staple of "Euphoria" makeup. Apply them strategically around your eyes, on your eyelids, or even on your cheeks to add a touch of sparkle and drama.

Vibrant Lips: Choose a bold and unconventional lip colour to make a statement. Deep purples, blues, or metallic shades can work wonders. Make sure to overline your lips for a plump and dramatic effect.
2. Barbie
This Halloween, step into the glamorous world of Hollywood with a costume inspired by Margot Robbie's iconic portrayal of Barbie in the new Hollywood movie.

COSTUME: For this look, we're going with the iconic look in the movie that's based on a pink gingham dress with a full skirt.

MAKEUP: Margot Robbie's Barbie look in the movie is all about achieving a flawless, radiant, and polished appearance. Here's how to recreate her captivating makeup:

Barbie Pink Eyes: Create a soft and dreamy eyeshadow look using shades of pink and champagne. Add a touch of shimmer to the inner corners of your eyes to make them pop. Line your upper lash line with black eyeliner and apply mascara to your lashes for a wide-eyed effect. For contacts, either go with one of Dimple Color's Capri Blue, Azore Blue, Brilliant Blue lenses or go all out with the pink theme and namesake and don a pair of Barbie Pink lenses.

Full and Glossy Lips: Barbie's lips are her trademark feature. Achieve a plump, glossy pout by using a vibrant pink lipstick. Add a high-shine lip gloss for extra dimension.

Long Lashes: Don't forget to enhance your lashes with a pair of voluminous false eyelashes. Barbie's lashes are always full and fluttery.
3. Vampire
Vampires never go out of style when it comes to Halloween. This year, channel your inner vampire with a look that's equal parts elegance and seduction.
COSTUME: Start with a form-fitting black gown with lace or velvet details for added allure. Complete your ensemble with black fishnet stockings, and stiletto heels. Vampire fangs optional.

MAKEUP: Begin by creating a flawless and porcelain-like complexion. Use a high-coverage foundation and set it with a matte setting powder for a long-lasting finish.

Smokey Eyes: Go for a sultry and dramatic eye makeup look with a smoky effect. Use deep burgundy or black eyeshadow to create depth and intensity. 

Blood-Red Lips: The focal point of your look should be your lips, so choose a bold, blood-red lipstick.

Vampiric Highlights: Add a touch of shimmer to your cheekbones and the inner corners of your eyes for a hauntingly beautiful glow. This will give you that otherworldly radiance.

Subtle Fang Marks: For a playful twist, draw subtle bite marks or fang marks on your neck or collarbone using red lipstick or special makeup effects.
4. Doja Cat
 Get ready to steal the spotlight this Halloween as Doja Cat from her electrifying "Paint The Town Red" music video. Replicate her fierce and fabulous style with a head-turning costume.
COSTUME: Start with a skin-tight, high-shine red bodysuit. Accessorise with chunky gold jewellery, including statement earrings and bold bangles. Don't forget to add a pair of thigh-high black boots with killer heels to complete the ensemble.

MAKEUP: Doja Cat's makeup in the "Paint The Town Red" music video is all about bold, dramatic, and glamorous features. Here's how to achieve her iconic look:

Eyes: Start with a dramatic smokey eye using deep, sultry red and black eyeshadow. Extend the eyeshadow outwards to create a winged effect. Line your upper and lower lash lines with black eyeliner for extra intensity. Finish with long, voluminous false lashes. You can't complete your Doja outfit without our Ruby Red or Red Vampire Lenses to match the music video.

Plump Lips: Doja Cat's lips in the video are bold and luscious. Line your lips with a red lip liner, then fill them in with vibrant red lipstick. Add a touch of gloss to the centre of your lips for a juicy pout.

Statement Nails: Don't forget to paint your nails a fierce shade of red to match your costume. Go for long, pointed nails for an extra touch of glamour.
5. Catwoman
Feline allure never goes out of style, and Catwoman remains an iconic choice for Halloween.


Costume: Start with a black bodysuit or leotard as the base. Add a pair of black fishnet stockings and thigh-high boots for a sexy touch. Don't forget a tail, which you can easily make from faux fur or purchase online. Accessorise with a choker necklace adorned with a bell, cat-ear headband, and a pair of long, elegant gloves with claw-like details.

Makeup: Create a stunning cat-inspired makeup look that highlights your eyes and adds a touch of feline mystique:

Smokey Eyes: Go for a seductive and dramatic eye makeup look with a classic smokey eye. Use black eyeshadow to create depth and extend the shadow outwards to create a winged effect. Line your upper and lower lash lines with black eyeliner for added intensity.

Nose and Whiskers: Use black eyeliner to draw a cute, button-like nose and delicate whiskers on your cheeks. This adds an adorable touch to your feline persona.

Cat-Like Lips: Choose a deep, sultry shade of red or burgundy for your lips. Overline your lips slightly to achieve a pouty and playful look.

Cat-Ear Headband: Complete your look by wearing a cat ear headband, and consider adding some faux fur to match your tail for a cohesive feline appearance.
Tip: Pick from any of our cat eye range: Yellow Cat Eye, Green Cat Eye, White Cat Eye or Red Cat Eye.
Happy Halloween from your Dimple Color Fam xx